About Natalis Crypto Store

So, as I am sure most of you are aware there seems to be some ongoing issues between payment processors and the adult industry. In just a few months Cambunny has lost zombaio, pornhub lost mastercard and visa and others are now charging payment fees or following suit. Like me, this has left lot of adult models worried about their income avenues and what the best options are form here.
The adult world has always been hard to sell in, much of my content wasn't allowed anywhere, it was very distressing. I spent a lot of hours looking at my options to make sure I can still make my content available to all my wonderful fans and it is with the help of HD I have been able to build my own store powered by crypto currency! Don't worry if crypto a new concept to you, it much easier that you think and allows us model to continue to provide content ????
Below I have included way to get some free currency, trade for currency and mine for beginners because i want to make shop.naughtynatali.co.uk as accessible as possible.
This will be my most complete store, you can order my underwear, have custom photos taken (great if you have your own website to promote), book skype shows, get tokens for Cambunny, support my bimbofication and buy video and photo sets.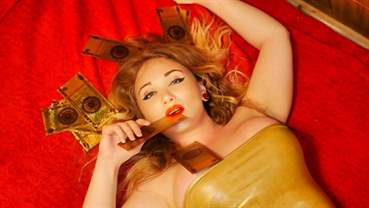 Rewards
Because my site uses crypto wallets, I don't have to pay massive commissions to site owners, this has allowed me to do 2 things:
1. Make many of my items allot cheaper. Yay!
2. Introduce a reward program, whenever you purchase an item in my store you receive credits, (like a clubcard), when you have enough points, you can use them to purchase items, essentially getting something for free., I am really excited about this and love that I can now reward my fans for being loyal.
Blogging and article rewards
If you write an article about me or one of my stores and social networks you could grab yourself 50c gift voucher for the store OR 15 tokens for Cambunny
The article must include links, consist of at least 500 words. Point it at one of my URLs, preferably my new crypto store, but my allmylinks is also ok.
You can write about a specific store or social network or you can even directly review a video on one of my stores, my motherless or pornhub.
Tweet the article at me and I will send you a 50c gift voucher for the store OR 15 tokens for Cambunny, please include your Cambunny username in the article, rewards will be issued at random, this means a few articles all over the net you could get yourself a free video, pictures or even a deep throat live!
Right! Now let's get you some easy crypto.
Crypto options:
Wallet - Coinpayments
https://gocps.net/sfg5wjxi08vza22n7jb0z5jzq0le/
This is probably the one i reccoment above all others, its one of three i am using and there are more than 70k sites on the net where you can just checkout with coinpayments, without all the hassel of transfering between currencies. They take major cards, and are all in all a top quality all in one wallet and exchange system.
Wallet - Coinbase
http://coinbase.com/join/hill_m4p?src=android-link

Now to receive crypto you will need a wallet and Coinbase is definitely the one to recommend... why?
Firstly, it super simple to use unlike some others out there, they have a clean interface and it easy to navigate so if you new to crypton this is user friendly and can be set up in minutes.
Secondly, it been around a while. At almost 10 years old Coinbase is fairly established in the crypton world. This is important in the crypto world as it means they build trust in their user base and why I am happy to recommend.
Thirdly, Coinbase now accepts Paypal. That right you can use Paypal to buy crypto with Coinbase so you can feel safe a secure in your purchase. (Currently only available to US, but more countries being added soon!)
Lastly but in no means least, Coinbase give away A LOT of free coin! Who doesn't like a freebie?
Either on the desktop go to LEARN AND EARN, or on the mobile app just scroll down to REWARDS. They every few weeks have crypto videos where watch a video that's under 1 minute long and answer a question or two to show you watched it, then boom a $1 in crypto in your wallet and you might have learned something too! Now it might not sound allot but that's $3 in under 5 minutes isn't too shabby and if the currency goes up so does your wallet.
They also give $10 for every person you refer.
Mining – Web Based
Web based mining is the easiest by far but it's also worth knowing it's the lowest value, the easiest route is https://objectivecoin.com/?ref=2 you sign up and log in, (using chrome with no script blockers), this can be done on any device, Mac, Windows or even a mobile.
Select the number of threads and press start. Just leave it running, you can withdraw via PayPal at $1.
CPU and GPU mining
(Only one type of CPU or GPU miner can be used at a time do not try to mix), windows will flag miners as a virus, just follow the guides provided by the sites and go ahead.
CudoMiner
https://www.cudominer.com/?a=qEAY9Fqqr this is one of the highest paying auto-miners I have ever seen, on a single GPU you can make up to 50-200 usd a month, in the payment tab select 'automatically convert coins' and the select 'Bitcoin'. Then it will mine anything your PC is capable of and convert it.
If you don't select auto convert it will limit what mining algorithm you can use. Put your bitcoin address from Coinbase in the wallets section and never draw out below 250,000 satoshi.
Unminable
https://unmineable.com/?ref=x984-z1fc – This ones really cool because you can choose to mine some of the most random alt coins, however you can select only GPU or CPU you can't have it use all the machine like you would in cudo.
It has over 60 coins to choose from so you can really diversify, on GPU mining you can get a payout in under a week for most coins, on CPU mining it takes closer to 30 days. Just click on download and then download the version with miner files included. I am doing allot with DOGE now its accepted everywhere.
So that's how the store works folks, and there some of the places you can get digital currency without buying it and ways to directly get credit for my live shows or stores.
Loves xx